It's not really possible to pick one phaser as the best adult laser tag set.
That's because different blasters serve different purposes. Therefore, we compiled various top brands based on:
So, let's evaluate the features of each of those options.
The Best Long Range Adult Laser Tag Set
The laser X REVOLUTION ULTRA LONG-RANGE DOUBLE BLASTERS stands out with a range of 500 FT.
Compared to many laser tag guns that have a range of roughly 200 feet, 500 feet is a big difference. This gives you plenty of distance to work with, whether you're in an open field or a crowded area. With a range this long, you'll be able to get the job done quickly and easily.
It's ideal for indoor and outdoor use, and can be played with individually or in teams. The 20+ different colors are sure to keep you entertained, and the infrared emitter allows for use both during the day and at night.
The package includes two Laser X REVOLUTION ULTRA LONG-RANGE BLASTERS, so you can share the fun with a friend!
And if that's not enough, the blaster also has the rapid fire feature, so you can keep the action going.
Truly, the benefits are endless!
Not only is it great for family fun, but it can also help improve your skills. The interactive voice coach will provide you with helpful guidance, allowing you to take your game to the next level.
With so many features, it's no wonder why kids and adults all over are saying that the Laser X REVOLUTION ULTRA LONG-RANGE DOUBLE BLASTERS is one of the best blasters on the market!
The Best Adult Laser Tag Set for Distraction-Free Play
With the ComTec Laser Tag, you're not going to need a TV or a console.
All you need is a patch of open space and a few friends.
Its time to get out of the house with the kids, get active and have some fun!
With this laser tag set you can play anywhere: it's small enough to carry along, and simple to use. It is perfect for all ages, and great for birthday parties, family reunions, or just a day out with friends.
The 700+ ratings are a testament to how popular this set is. But the first thing you'll love is the price. This set is one of the most affordable on the market.
It works for indoor and outdoor play, and the shooting range is 130 ft., making it ideal for small spaces.
But the thing that makes the ComTec Laser Tag appear in this list of the best adult laser tags is the fact that it features vibrations along with lighting feature on the chest piece. Unlike many other blasters that only have lighting on the chest piece; you can know when you're hit by feeling the vibrations.
The set comes with 4 color options, so you can group together up to 4 teams.
You can also select different weapon modes: the pistol has 12 bullets and takes 1 life if it hits; the shotgun has 6 bullets and takes 2 lives if it hits; the machine gun has 6 bullets and takes 2 lives if it hits; and the rocket launcher has 1 missile and takes 3 lives if it hits.
And the receiver is day and night compatible.
But the best part is that you can add multiple players by purchasing more sets.
A set includes two vests, two straps, two guns, and an instruction manual. It also needs batteries, but they aren't included in the package.
The ergonomic design makes it easy to hold and use. Plus, the toy is lightweight, so you can play for hours without getting tired.
Another great feature is the 12-month warranty, which gives you a risk-free purchase. If there are any problems with the toy, you can always get your money back.
Buy the ComTec Laser Tag on Amazon.
The best Realistic Adult Laser Tag Gun Set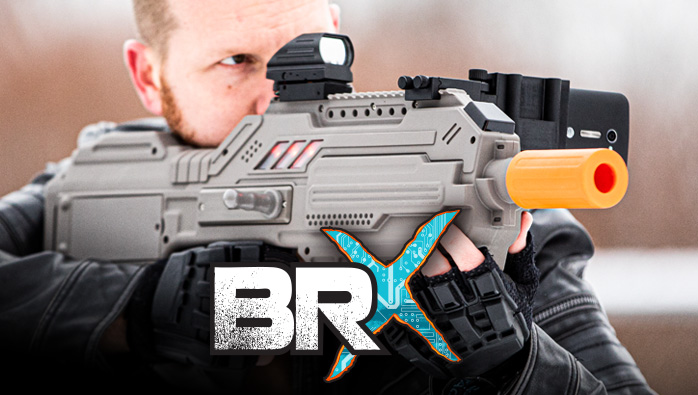 If you want a more realistic feel, try the BRX Laser Tag Rifle, a full-sized rifle, with a bolt-action and rumble feedback plus an incredible range of 550+ feet even in full sunlight. But the weight comes at 8.0 lbs., which is a bit on the heavier side, but what you may expect of a realistic feel.
You could use it both indoors or outdoors or try this at home with your friends.
The wireless head sensors that come with the rifle makes it even more of an appealing unit to invest in.
When paired to your smartphone it offers an unparalleled level of customization making it more like a live action gaming console than a laser tag system. This is great for people who want to enhance their gaming experience.
The rifle also comes with preset game modes and weapons types, making it easier to get started.
The package includes batteries with chargers, making it a great value for the price.
This rifle also has great sound quality out of the box to make you feel like you are live action gaming.
With all of these features and benefits, the BRX Laser Tag Rifle is an excellent choice for anyone looking for a high-quality laser tag set.
Buy the Brx Rifle.
The Best of the Best
All three laser tag sets have their own unique features, but there are some similarities among them as well.
The Brx Rifle has the longest range of all three at 550+ feet, while the ComTec Laser Tag set is limited to 130 ft. The ComTec set also includes two vests and allows for team play, while the Brx set only includes one vest.
Both the ComTec and Brx sets allow for indoor and outdoor use, while the laser X REVOLUTION ULTRA LONG-RANGE DOUBLE BLASTER is aimed at outdoor use.
The Brx set also comes with a unique red dot reflex scope.
The best of the three sets for for teens and adults would be the Brx Rifle, due to its increased range and features.
Adult Laser Tag Sets vs. Kids Blasters
If you're wondering about what makes a blaster suitable for adults, you just need to consider the features.
Although many of these phasers can be used by both adults and kids, a comparison with specific blasters that are best suited for very young kid (particularly, mini-blasters) can show the main differences.
The range is a key differentiating feature.
The adult blasters have ranges of 550+ feet, 130 ft, and 200 ft; whereas mini-blasters have 100 foot ranges and 200 FT on the high side.
The receiver is another differentiating feature.
Adult blasters have wireless head sensors, normal Vests or arm receivers. On the other hand, mini-blasters either have arms receivers or no receiver vests at all.
One place where the kid's mini-blasters seem to have an upper hand is lighting.
The adult laser tag guns have about 4 color options, while the kid's blasters have as much as 10 DIFFERENT COLORS.
Check Out This Blaster We Reviewed Recently.
Laser X - 88016 ORIGINAL Reviewed

Pros:

- Still good as new after 5+ years of heavy commercial use




Cons:

- no screws to open it up
To read the full Laser X Review, click here.
What is Laser Tag? Everything You Need to Know
If you're new to laser tag, here's an introduction video to it and you can also check out our ultimate guide on our homepage.